Sheng Chen Receives NSF CAREER Award
Tue, 03/06/2018 - 11:43am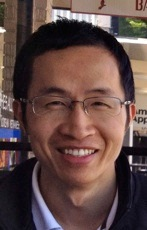 Sheng Chen, an assistant professor in the School of Computing and Informatics, has received one of the National Science Foundation's most prestigious awards. A five-year, $506,000 grant accompanied the recognition. Chen will use the money to enhance his research of type systems. Type systems are parts of a programming language that identify errors. But the error messages users receive are often imprecise and unhelpful in finding a solution. "Productivity and correctness of the program are so important. My goal is to try to add certain features that make program languages more useful or to try to detect more problems before you run your program", Chen said.
The National Science Foundation CAREER awards are the National Science Foundation's most prestigious awards in support of junior faculty who exemplify the role of teacher-scholars through research, education and the integration of education and research within the context of the mission of their organizations. The award comes with a federal grant for research and education activities for five consecutive years. NSF grants these awards once a year. The reviewing, award and selection process is one of the most competitive within the NSF.
NSF CAREER awards support promising and talented researchers in building a foundation for a lifetime of leadership in integrating education and research. The NSF recognized 557 CAREER recipients in 2017.
Chen is the fifth School of Computing and Informatics faculty member to receive the award. The others were Danella Zhao, a 2013 honoree; Miao Jin, in 2011; Dmitri Perkins, in 2005; and Hongyi Wu, in 2004. Learn more about these awards
"This is one of the most prestigious funding awards early-career faculty can get," Dean Azmy S. Ackleh said. "It shows the caliber of faculty we have in the College of Sciences. Their research ideas make them competitive at the national level."
This news item is based the UL Lafayette news item NSF recognition puts UL Lafayette computer scientist in elite company.