Featured College of Sciences Alumni
We are proud of all of our alumni. On this page we feature a few specially selected alumni. Please check back for updates. Please select an alumna or alumnus from the following list and learn more. If you have suggestions of other alumni we might feature, please let us know.
---
Mary Broussard
Mary Broussard (Master of Science Geology/Earth Science, 1995). Senior Geophysicist at Freeport-McMoRan Oil & Gas, Lafayette, Louisiana.
She says her father inspired her interest in geology. "My father had a Ph.D. in geophysics and was a great mentor for me. I took a high school course in geology and discovered that I loved earth science," Broussard said. "As a geoscientist, I am presented with unique challenges every day that, keep my job exciting. I work with a group of professionals who I respect and appreciate. For me, it's a great career. I appreciate the exposure and opportunity to work on a variety of deepwater projects and I am always expanding my knowledge base."
Broussard started her graduate work at UL Lafayette when she was working full time for Marathon Oil Co. "I needed a Master's degree and, at the time, the UL graduate program was small. The UL professors were willing and able to customize my course load to fit my work schedule," she said. "I took courses during my lunch break and in the evening. I was able to pursue a graduate degree with the help of the professors."
She said the practical and hands-on education worked well for her. "Compared to most programs, it offered real-world knowledge and applications," she said. "It gave me the skill set that I needed to excel in my career. It made me a well-rounded geoscientist."
She gives significant credit to Dr. Brian Lock, who has been in the Department of Geology for 35 years. "He was my thesis adviser. He was patient with me while I was working full time. He encouraged me in many positive ways. Once, he even convinced me to present an abbreviated version of my thesis at a 1995 technical conference focused on gulf coast geology. It could have been intimidating for a grad student, but with his help —he co-authored the paper, it was a great experience. We won the highest honor at the conference for the paper!"
Broussard said she has greatly enjoyed working with the university since she graduated. "I like to stay connected and volunteer. I find it rewarding to work with students and pass on my knowledge," she said. "Through the years I have had the opportunity to mentor numerous grad students participating in the geology program as well as give several seminars."
---
Pat Clark
Pat Clark (BS Computer Science, 1980) is a Senior Technical Consultant for Stratus Technologies and has worked for the company for an impressive 32 years. Originally from Mandeville, LA and the son of a Mechanical Engineer, Pat started off at UL Lafayette as an undecided engineering major. He knew he wanted to do something technical so he enrolled in a few electives which included computer science courses during his freshman year. He was pleasantly surprised by the complexity that his computer science course offered. Back then, high schools seldom offered computer science or programming classes so it was a new challenge that he was ready to take on. UL Lafayette also had a reputation for being one of the few sites in the United States and in the world that had the Honeywell Multics operating system (there were only ever 40 sites worldwide). Upon completion of his degree, Pat spent four years in the Air Force working at the Pentagon which at the time was where all UL Lafayette ROTC computer science graduates were sent.
While Pat was a student at UL Lafayette, he was quite active on campus. He was an honors student, an ROTC scholarship recipient, a member of Phi Kappa Psi fraternity, and the Interfraternity council (IFC). He credits Dr. Ronald J. White, the first Director of the Honors College for creating an unconventional space for honors students to utilize some level of autonomy in their decision making while in the program. During his alumni spotlight interview he recalled some of the fun activities the guys from the honors program would engage in which included playing mud football in the quadrangle.
Admirably, even though he now calls Massachusetts home, his Louisiana roots run deep and he has never missed a Homecoming/Mardi Gras since he graduated. He was able to form and develop lifelong bonds with several of his Phi Kappa Psi brothers whom he visits with annually. It is no surprise that he continues to support his alma mater annually as a proud Ragin' Cajun.
When asked about what advice he thought would be valuable to current students, he said "don't ever assume that there is only one answer to solving a problem, learn how to think broadly and not focus on one specific set of tricks".
Photo information: The Honeywell 6180 at MIT IPC, circa 1976, skin doors open. [photo by THVV, http://multicians.org/multics-stories.html]
---
Roderick V. Clark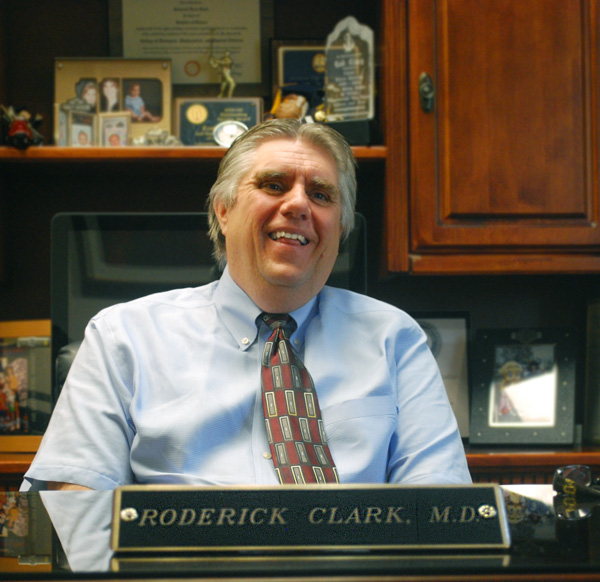 Dr. Roderick V. Clark (BS in Biology/Chemistry, 1982) always knew that UL Lafayette would be his first school of choice. Born in Alexandria, LA he moved to Lafayette when he was 2 years old, he has a deep cultural connection to the Cajun heritage. He enrolled at UL Lafayette in 1977 as a Biology/Chemistry major to undertake the initial phase of chasing his dream to become a medical doctor. He was always fascinated by research, specifically cancer research. Along the way, he admired several professors at UL Lafayette including Dr. Perkins his chemistry professor and Dr. Steuben his advisor.
Upon completion of his undergraduate degree, Dr. Rod was accepted into the Louisiana State University School of Medicine in New Orleans. After graduation, he did his Internal Medicine residency at UMC, now UHC, in Lafayette then went on to do his fellowship in Nephrology at the University of Mississippi Medical Center in Jackson, MS. He has since relocated back to Lafayette where he has been in practice for over 21 years and has dedicated his career to supporting his family, his patients and giving back by serving the community of Lafayette. A full circle moment for Dr. Rod was having the opportunity to treat and take care of one of his elementary school teachers as a patient. Dr. Rod served as the President of the Lafayette General Medical Society and with the help of his peers, he was able to facilitate several fundraising activities and scholarships to help sponsor students in the community attending UL Lafayette. He is currently working to develop a Pre-Professional Advising program at UL Lafayette where students would be able to get quality advice as they explore the possibility of going to professional schools and programs in the medical field.
Dr. Rod describes one of his greatest gifts and joys in life as his family. He met his wife and fellow UL Lafayette alumna, Dr. Tina Benoit Clark at UL Lafayette and they both graduated from the same class at LSU Medical School in New Orleans. They have three children, two of whom are also UL Lafayette graduates and are currently in medical school.
His advice for current pre-med students and students who are pondering the possibility of going into medicine is to recognize that "if you are going into medicine for economic reasons, you are going into it for the wrong reasons". He stressed the importance of students needing to be service minded and ensuring that they remember to always put their patients first.
---
Clay Green
Dr. Clay Green, (Doctor of Philosophy, Environmental and Evolutionary Biology, 2003). Associate Professor of Biology at Texas State University in San Marcos, Texas.
Dr. Clay Green wakes up excited to spend his days teaching and learning about wildlife biology at Texas State University in San Marcos, where he serves as Associate Professor of Biology. He credits UL Lafayette for helping him realize his career goals and for introducing him to his wife Susan (Michele) Salter Green, M.S. '01.
Clay took an uncommon route to becoming a biologist. After earning his bachelor's degree from University of Texas, Austin in Soviet and East European Studies and spending four years in the United States Navy, he decided to return to his first love of being outdoors which led him to pursue a master's degree in Range and Wildlife Management from Sul Ross State University, and then to UL Lafayette for his doctoral degree in Environmental and Evolutionary Biology.
At UL Lafayette, Clay was able to hone his research interests and set a path for a prolific academic career. He's published scores of papers focused on the ecology of birds and mammals with a particular emphasis on the ecology and conservation of water birds. His relationships at UL Lafayette with faculty, especially Dr. Paul Leberg, and with other graduate students, provided a unique and supportive learning environment. These have served him throughout his career in research collaborations and in other endeavors. Clay said that the UL Lafayette Biology Department's  close proximity to, and collaborative relationship with state and federal wildlife agencies continues to provide opportunities for students to learn from professionals in the field and complements the work of the faculty in the classroom. He also appreciated the diversity of research interests in UL Lafayette's faculty. He said each faculty member he worked with brought a different perspective to his dissertation, which forced him to think more broadly — an experience that continues to influence his teaching and research career.
Overall, Clay fondly remembers his days at UL Lafayette and in Acadiana. He loved the people, music, food and festivals — and is delighted to give back to the place that gave him so much. He recently was honored to come back to campus and give a seminar to current students. He said, "it was a homecoming for me".
---
Grant Gibson
For Grant Gibson, a passion for the science of "why" led to an impressive educational and professional career that brought him around the world many times over. However, Gibson was the first to remind us that it all began in Cajun country at UL Lafayette. 
Gibson was raised in New Iberia, Louisiana and attributed his decision to enroll at UL Lafayette due to its proximity to the home he loved and the culture that framed his childhood. Knowing early on that he had an affinity for math and science, Gibson eventually settled on physics when declaring his major as an undergrad. When asked what led him to choose physics over other, more traditional STEM-centric degrees, Gibson's explanation was two-fold. First, during that time, he knew of very few people who chose physics as a major and he found the subject's unconventional nature appealing. Second, he knew that his passion could be found in the science of "why" as opposed to the science of "how." This passion ultimately led him to pursue physics at what was then known as USL - a decision that would prove to influence his life in unexpected ways.  
Gibson remembered a small, quirky community of physics faculty and students who shared the same thirst for knowledge and understanding of the world's most pressing mysteries. He recalled fondly the dusty work rooms, outdated equipment, and professors whose passion for their field bordered on outlandish. He attributed much of his success later in life to ambition, with his ambition linked to the enthusiasm and dedication of several of his professors in the UL Lafayette physics program.  
"The professors took the time to invest in me and went out of their way to help me both academically and on a personal level. It made going to class and being part of the physics community really enjoyable."  
After earning his undergraduate degree in 1995, Gibson remained at UL Lafayette with the help of his professors to pursue a master's degree in physics. He smiled when recalling his time teaching freshman-level physics courses as he worked toward his second degree. He was fully immersed in the UL Lafayette experience at the time, attending football games each weekend and actively participating in Cajun culture and traditions. After Gibson earned his graduate degree, he decided soon after to take his education even further and pursued a Ph.D. After some gentle encouragement from his mother, and with the help of his support system in the UL Lafayette physics department, Gibson left the state and culture that shaped his life to explore the unfamiliar. Gibson described his time working towards a doctorate in Corrosion Science and Engineering at the University of Manchester Institute of Science and Technology (UMIST), now known as the University of Manchester in the UK, as "exciting," but frequently emphasized that even thousands of miles from home, Cajun culture impacted his experiences and relationships more than one might think. As a Ph.D. candidate, Gibson recalled cooking Cajun food every Friday night for the new friends he made while studying in Europe. Gibson completed his studies in Manchester in 1999. 
After completing his Ph.D., Gibson relocated to Houston, Texas where he eventually founded his company, GATE Energy. He established the company in the year 2000 and since then, GATE Energy has grown to become a nationally recognized consulting and engineering firm, providing world-class engineering and project management services to the oil and gas industry. Gibson currently serves as the chairman and CEO of GATE Energy and as managing director of the company's Singapore and South Korea operations. 
Amid his growing success, Gibson found himself with an increasing desire to return to his roots, to give back to the place and department that gave him his start. In January 2016, Grant gave a non-endowed gift of $50,997 to the UL Lafayette Department of Physics to support the Grant Gibson Interdisciplinary Research Laboratory. The gift provided the means for a new, cutting edge laboratory that has since enhanced the overall educational and research preparation of UL Lafayette students, building a bridge between classroom and industry. A new curriculum in collaboration with the research lab introduced technical, hands-on experiments enabling students to link coursework and workforce demands.
More recently, in December of 2020, Gibson established the Dr. Grant Gibson Scholarly Travel & Research Endowed Fund in Physics. His gift totals more than $50,000 and aims to support professional development and skill building opportunities for students, such as field research, conference participation, and stipends for internships and travel. When asked why he chose to fund this particular area, Gibson explained that he hopes his gift will ultimately help students gain practical, hands-on experience that will prompt them to find success as they continue their careers. While Gibson knows that physics at UL Lafayette has grown beyond the small, quirky, seemingly under-funded department he remembers from when he was a student at USL, he hopes that his endowment will give students a competitive edge when moving on from their undergraduate studies. 
"When I was a student, there wasn't a lot of money for conferences or field research. I hope my gift helps students to have those opportunities. I want experiences like these to help launch their careers, too."  Dr. Azmy Ackleh, Dean of the UL Lafayette College of Sciences, said, "Alumni like Grant, who recognize the value of investing in higher education, are the reason our College is able to match the incredible potential of our students. Their support is critical to our ability to recruit and retain the best and brightest individuals who will undoubtedly go on to address many of the challenges our world faces today." Driven by feelings of love and nostalgia for his Cajun upbringing, Gibson fiercely believes in the importance of staying connected to his roots and, especially, in giving back to the community that fostered his passion for the science of "why." When asked what he would say to anyone in a similar position, with the interest and ability to give, Gibson had a simple message.  
"Giving back is always a positive thing. It's about investing in your community; it's a way for us to pay it forward. I like seeing that the department now has more resources available to it so that hopefully it can attract students who have the same fire inside that I did. I'm very proud to be from UL Lafayette and it feels good to be able to give back to the community that gave so much to me." 
In discussing his life, achievements, and wide array of impressive endeavors, Grant Gibson emphasized one thing above the others. For Gibson, his roots are the building blocks upon which he framed the rest of his life. Because of this, he says, "I take the Cajun culture with me wherever I go."   
---
Robert W. Hamm
Dr. Robert W. Hamm (BS in Physics, 1967) grew up in an oilfield family and went to school in 12 cities in Louisiana and Texas before his family settled in Lake Charles, LA when he was 13 years old. He attended LaGrange High school where he graduated as co-valedictorian of his class. He was encouraged by his mathematics teacher Dr. Allen St. Martin to attend UL Lafayette, where he had received a tuition scholarship in a scholastic rally. He enrolled at UL Lafayette immediately after graduation but due to unforeseen financial and scholastic circumstances had to leave school 2 weeks after the semester started. He took a job working in the oilfield as a roughneck and was able to save his money. A year later, still determined to get a college degree, he re-enrolled at UL Lafayette. He took a few physics courses, which he really enjoyed, and as a result decided to major in physics. Balancing going to college during the regular semesters and working in the oilfield during the summer and winter breaks, Bob persevered and earned his degree in physics, graduating "with distinction". Like many college graduates, he wrestled with the decision of pursuing a graduate degree or accepting a full time position with Texas Instruments. Dr. John Meriwether, one of Bob's physics professors encouraged him to consider graduate school, and he accepted a job at Savannah River with DuPont as a summer intern. He then went on to complete his master's degree in physics at Florida State University.
Bob stayed at FSU, accepting a full time position at the FSU Nuclear Research Center for one year, where he became very interested in accelerator physics and technology. He then moved to Houston, Texas and worked as an engineering assistant at Schlumberger Well Services during the wait for the birth of his son. In 1971, he and his wife Marianne, who he met while he was at FSU, were accepted into the physics graduate program at Texas A&M University in College Station. They were accepted into the physics PhD program and completed their degrees in 1976 and 1977. Bob's degree was in accelerator physics. They then worked 5 years at Los Alamos National Lab at the Meson Physics facility before moving to California in 1981. After stints at a couple of commercial accelerator companies, Bob became the CEO, President, Technical Leader and co-founder of AccSys Technology, Inc. in 1985. His wife became the COO and co-founder of this business that designs and manufactures compact ion linac systems for medical, research, and industrial applications. After selling the company to Hitachi, Inc. in 2008, he and his wife Marianne co-founded R&M Technical Enterprises, Inc. where he is till this day the CEO/President of the company. The company specializes in accelerator design and consulting. In their free time, Bob and Marianne both enjoy fishing, hunting, diving, travelling and exploring nature with their family.
His advice for students is to stay in school; he said, "You can never get too much education, because it is something that can't be taken away from you. You can lose your job, your house and your car but your education will always be yours. Also, do what you really enjoy and want to do, and you will never work a day in your life".
---
Jamie Hebert
Dr. Jamie L. Hebert (Bachelor of Science, Statistics, 1986; Master of Science, Statistics, 1988; Doctor of Philosophy, Statistics, 1990). President of Georgia Southern University in Statesboro, Georgia (effective July 2016).
Dr. Hebert, a native of Abbeville, earned three degrees at UL Lafayette before embarking on a successful career in academia.  Dr. Hebert joined the faculty of Appalachian State University (Boone, North Carolina) in 1990 as an Assistant Professor of Mathematical Science.  In 1995, Dr. Hebert moved to Sam Houston State University (Huntsville, Texas) where he climbed the academic ranks to become a Full Professor of Statistics in 1999.  He went on to Chair the Statistics Department, to serve as Dean of the College of Arts and Sciences, and then was promoted in 2011 to Provost and Vice President of Academic Affairs.  In July of 2016, Dr. Hebert will be moving to Georgia Southern University (Statesboro, Georgia) to become President of the University.  "Georgia Southern is a great university, and I am honored to have the opportunity to serve this institution, its faculty, staff and students; and, the Statesboro community. I look forward to working with the campus and Statesboro community to take Georgia Southern to even greater heights," said Hebert.
About UL Lafayette, Dr. Hebert said, "The University of Louisiana Lafayette not only provided a wonderful educational foundation for me, the institution has been transformative for my entire family. It was a gateway for my father decades ago and has since opened doors for me, my siblings, and now our children … The personal approach to education provided by the Mathematics and Statistics faculty, the extraordinary mentors like Tom Boullion and Pat Rickles, and the culture of the place, wrapping a wholesome academic institution in the richness of the Cajun culture, provided the precise experience that I needed to initiate my career. I owe everything to this place."
Throughout his academic career, Dr. Hebert has been active in University-related, student-related, professional and civic organizations including: the Council of Academic Deans, SACS Compliance Committee (2009 reaffirmation), Standing Faculty Tenure Committee, Texas Association of Chief Academic Officers, Journal of Developmental Education, SHSU Rotoract Club, Tau Kappa Epsilon Fraternity (advisor), Rotary Club of Huntsville, and Huntsville/Walker County Economic Development Committee.
Dr. Hebert has two daughters. Emily is a graduate student and Sarah is an undergraduate student.
---
Herman D. Hughes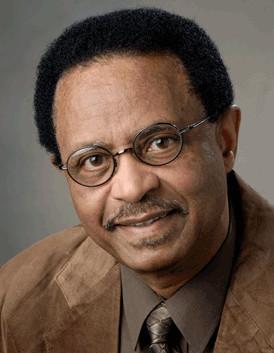 Dr. Herman D. Hughes (Doctor of Philosophy, Computer Science, 1973). Professor Emeritus at Michigan State University (Department of Computer Science and Engineering).
Dr. Herman D. Hughes, received a B.S. degree in Mathematics from Stillman College, a M.A. degree in Chemistry from Tuskegee University, and a Ph.D. in Computer Science from the University of Louisiana at Lafayette. He began his academic career as a high school mathematics teacher in 1959, followed by faculty positions in mathematics at Tuskegee University and Grambling State University. During his academic training, Professor Hughes worked in the summer months both in industry and government (IBM, American Oil Company, Dow Chemical, Advanced Avionics Research Lab). In 1973, Dr. Hughes joined the faculty of Michigan State University (MSU) as an Assistant Professor in the Department of Computer Science and Engineering. He climbed the academic ranks at MSU to become a Full Professor in 1984 and Professor Emeritus in 2005. While at MSU he also served as Assistant Dean of the Graduate School from 1986 through 1991.
Dr. Hughes became a national and international leader in the area of network traffic management and modeling with respect to wireless and high speed networks.
He designed several schemes for addressing quality-of-service issues central to recent network technologies, wireless ad hoc networks and Asynchronous Transfer Mode (ATM). The results of his research provided important insight for defining some key algorithms and parameters used by researchers for studying network traffic.
Dr. Hughes' work is published in numerous journals and has been presented at the most prestigious conferences. He served as a National ACM lecturer, and was voted Distinguished Alumnus both by Stillman College and the University of Louisiana at Lafayette. Professor Hughes' exemplary contributions to research, teaching and service earned him the MSU "Distinguished Faculty Award" in 2000.
Dr. Hughes' most recent research emphasis is quality-of-service (QoS) issues in mobile ad-hoc networks (MANET). Specifically, he has developed and published several
techniques and routing schemes designed to enhance QoS. From this work, he upgraded the high-speed networks and performances (HSNP) research lab to a modern wireless communication and high speed networks (WCHSN) lab.
After his retirement from MSU Professor Hughes relocated to Georgia.  He was appointed an Adjunct Professor in the Department of Electrical and Computer Engineering at the Georgia Institute of Technology where he is involved in research and consulting. He is affiliated with Georgia Centers for Advanced Telecommunications Technology, housed in the School of Electrical and Computer Engineering.
---
Karl Andrew LeBlanc
Dr. Karl Andrew LeBlanc (Bachelor of Science, Biology 1974). Medical Doctor (General Surgery, Bariatric Surgery) with Surgeons Group of Baton Rouge, Baton Rouge, Louisiana.
Dr. LeBlanc grew up on a farm in the countryside near Breaux Bridge. As a little boy, he remembers dissecting the eyeballs of a cow. His early interest in biology inspired him to become a physician, but he credits the educational foundation he gained at UL Lafayette with preparing him for medical school.
"UL Lafayette gave me a good foundation," he said. "At the time, our family couldn't afford to send us (my twin brother and I) to LSU. Proximity brought me to UL Lafayette — and everything worked out quite well."
Karl went on to LSU Medical School in Shreveport where he earned a Doctor of Medicine degree in 1978. Since then, he extended his education by earning a MBA from LSU in 1992.
Karl's areas of practice include General Surgery, with a special interest in Laparoscopic Surgery, Bariatric and Hernia surgery. In fact, he performed the world's first laparoscopic ventral hernia repair in 1991. He has authored seven medical textbooks and more than 100 medical publications. Dr. LeBlanc fondly remembers Dr. Savoie's chemistry class from his undergraduate days at UL Lafayette.
"I also remember my comparative anatomy professor who had the bones of an alligator on display," Karl said.
His advice to students is to listen to what your head and what your heart tell you to do.
He said, "stick with your heart to weather whatever adversities come your way".
---
Sharmila Pathikonda
On 1 October 2022 alumna Sharmila Pathikonda (PhD 2009) began a new stage in her career when she assumed the positions of Assistant Vice Chancellor for Research and Director of Research Development at the Texas A&M University System.
The Texas A&M University System includes 11 universities and 8 Texas state agencies. In her position, Dr. Pathikonda will play a key role in the development of research efforts and proposals, mainly focusing on large strategic initiatives involving multiple investigators from multiple institutions. Altogether these efforts are aimed at enhancing the research enterprise across the Texas A&M University System.
Please read on to learn more about Dr. Pathikonda, what she has done since receiving her PhD in Environmental and Evolutionary Biology, and why she counts Drs. Susan Mopper, Karl Hasenstein, and Azmy Ackleh as important influences on her professional development. Below you will find Dr. Pathikonda's responses to a few of our questions and prompts.
What was your dissertation topic and research?
My dissertation tile is Ecological and Physiological Responses to Salinity Stress: Comparison of Native and Invasive Congeners (May 2009). I studied how saltwater intrusion into freshwater marshes affects the distribution of freshwater Irises and how saltwater-adapted invasive Irises compete against native Irises in the context of salinity stress. For this research, I used field experiments and mathematical modeling to develop an understanding of how salinity stress would impact Louisiana's freshwater marsh plants.
Expand on your relationships with the mentors you mentioned (Susan Mopper, Karl Hasenstein and Azmy Ackleh) and how they affected your profession path.
I came to the University of Louisiana at Lafayette as an international student. I had a lifelong interest in plants and the work of Drs. Mopper and Hasenstein was the most interesting to me, and I wanted to develop my skills and expertise in the area of work there. Both of them were major inspirational figures and helped me become a scientist. Dr. Mopper had a great eye for detail and worked hard to instill the same qualities in her students. Dr. Hasenstein was an inspiring mentor and always posed thoughtful and challenging questions, which helped expand my thinking. Besides them, Drs. Azmy Ackleh and Derek Johnson were my committee members who helped train me in the mathematical modeling parts of my research. Dr. Azmy was especially kind and patient enough to integrate me with his graduate students, which helped me make progress with the mathematical modeling parts. Apart from my dissertation research, I had the good fortune of being a Teaching Assistant funded by an NSF BioMath grant, interacting with amazing undergraduate students, and learning from USGS scientist Jacoby Carter. These experiences were highly formative for me as they gave me confidence in my abilities and developed other parts of my professional profile, such as teaching, mentoring, and presenting at international conferences. Altogether, I owe much of my success to the strong foundation built at the Department of Biology, which has served me very well since then. It is not an exaggeration to say that I haven't had mentors like Susan and Karl before or since my time at UL Lafayette.
What did you do after graduating from UL Lafayette?
Immediately after my PhD I went to the University of Wyoming as a Postdoctoral Research Associate with Dr. Kiona Ogle. The research there built on my experience in mathematical modeling in relation to climate change. There I worked on large plant datasets to understand how climate change would impact the distributions of tree species by applying hierarchical Bayesian modeling. When the lab moved to Arizona State University in 2011, I moved there until the end of my position in 2012. After that, I moved to Texas A&M University in College Station, Texas to a research position, so I could be close to my family. At Texas A&M, I worked in a research lab until 2015, when I took a position in Research Administration.
Expand on your work in an administrative capacity.
I started in an administrative role in 2015 when I joined the Sponsored Research Services of Texas A&M University. Since then, my work has primarily involved providing specialist scientific support on federal grant proposals. My strengths in biology, mathematics, and statistics have proved invaluable. They have allowed me to provide valuable feedback in fields as diverse as cancer biology, climate science, energy innovation, and nuclear engineering. My career progression has been possible due to the passion I have for science, my strong training in quantitative sciences, and the thrill of participating in the development of innovative new research projects. My current role is the latest point in my journey in research administration that began seven years ago, but it is the cumulative effect of my graduate training which began nearly 20 years ago.
Expand a bit more on you duties, goals, and aspirations for your new position.
The Texas A&M University system is an exciting and diverse composition of eleven universities and eight state agencies. Each of them is involved in pursuing research and education as befitting their land, air, sea, and space grant missions. The Texas A&M University System has a research expenditure of over $1.2B, and the vision for the System is both expansive and ambitious. There is a critical role for research development in such an environment. My office aims to provide a high standard of support to enhance the research enterprise of the System. However, as is common in any large and complex System, much work remains to be done to make the experience better for researchers and to maintain the upward trajectory of research expenditure. My office is expanding as we seek to provide additional value-added support services for strategic research development efforts. I aspire to play a key role in enhancing the experience of researchers as they seek to develop their research programs and help expand our research portfolio.
---