Giant tsunami from dino-killing asteroid impact revealed in fossilized 'megaripples'
x
Dr. Gary Kinsland of our School of Geosciences is featured in a Science Magazine article from 12 July 2021. Dr. Kinsland found that a meteor responsible for dinosaurs' demise triggered a tsunami that left large-scale subsurface ripples — and his research revealed those ripples are fossilized here in Louisiana.
A Tectonic Shift in Analytics and Computing Is Coming
Dr. Gabriele Morra of our Department of Physics and the School of Geosciences just published an overview of the opportunities and challenges in Machine Learning and Supercomputing in the Geosciences in a journal of the American Geophysical Union.
Artificial intelligence combined with high-performance computing could trigger a fundamental change in how geoscientists extract knowledge from large volumes of data. Check out the details in the article A Tectonic Shift in Analytics and Computing Is Coming .
Flukes and hazards: Geologists map hot spots in Louisiana's coastal zone
(UL Lafayette news item: Wed, 07/25/2018)
Two researchers at the University of Louisiana at Lafayette are contributors to an atlas focused on coastal Louisiana's complicated – and at times, hazardous – relationship with geology. But don't be fooled by the name. The Louisiana Coastal Geohazards Atlas is more than a collection of maps. It's an encyclopedia, too. It will combine information about geologic conditions – such as flooding, faulting and subsidence that can affect land use in the coastal zones – into a first-of-its-kind authoritative resource. Learn more about this project.
---
University biologist suggests rough sailing for planned river diversions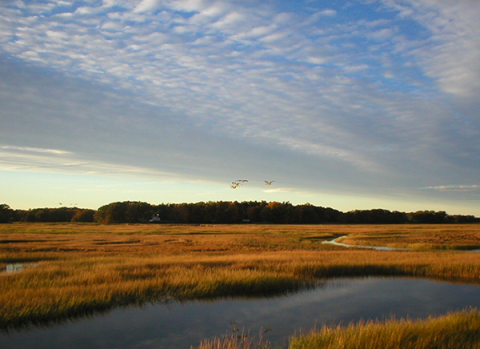 (UL Lafayette news item: Mon, 07/23/2018)
The fate of fish in a New England estuary could predict what's ahead for Louisiana marsh life should the state activate a cornerstone of its coastal restoration plan. That's according to Dr. James A. Nelson, a University of Louisiana at Lafayette biologist. Nelson and other researchers introduced nutrient-enriched seawater into three watersheds in Plum Island Estuary, an area of tidal marshes and interconnected creek channels in northeastern Massachusetts. The team's goal was to determine how nutrients such as phosphate and nitrate affected the estuary's food web, the relationship between predator and prey in nature. Learn more about this project.
---
Researchers discover hidden biosphere after 2010 oil spill wiped out marine life
(UL Lafayette news item: Mon, 07/02/2018)
The Gulf of Mexico resembled an aquatic desert. It was a barren landscape with little to no life left after the 2010 Deepwater Horizon oil spill polluted the waters and masked any-and-everything in a thick layer of dark sludge. Although the spill was a devastation to coastal communities and local wildlife, it transformed and expanded the way the scientific population viewed the area. Without the accident, Drs. Suzanne Fredericq and Sherry Krayesky-Self may not have made the breakthrough that could potentially affect all levels of the planet's food chain. "What we've learned will revolutionize the way we look at the ocean and at life," said Fredericq, a University of Louisiana at Lafayette biology professor. Learn more about this project.
---
What makes tick-born pathogens tick?
(UL Lafayette news item: Tue, 12/05/2017)
The battle against pesky ticks during what could already be considered the unbearable Louisiana heat rages on in a new research study. Dr. Scott Duke-Sylvester, an associate professor of biology at the University of Louisiana at Lafayette, has joined a team of researchers to analyze how transmitted diseases born from pathogens - microorganisms that cause illnesses - found in the small arachnids will affect human health. "We are hoping to have a better understanding of where the disease is distributed in different parts of the country, if there's any change in that distribution and which tick species are responsible," he said. Learn more about this project.
---
---
'Earthzine' features doctoral student's marsh study
Samantha Hauser and Paul LeBerg
UL Lafayette doctoral fellow Samantha Hauser was near Brigantine, N.J., the day before Hurricane Sandy made landfall there on Oct. 29, 2012. She had been conducting research in a marsh on the coast of the Atlantic Ocean. "I was about to leave and the marsh was covered with saltwater already," she told La Louisiane. A New Jersey native, Hauser was pursuing a bachelor's degree in ecology and natural resources at Rutgers University at the time. "We were at least an hour or two inland and we were still completely flooded from the saltwater coming into the Raritan River," she said. Learn more about this project.
---
Surprising Serpants
Studies show which snakes strike fastest, including the monster Titanoboa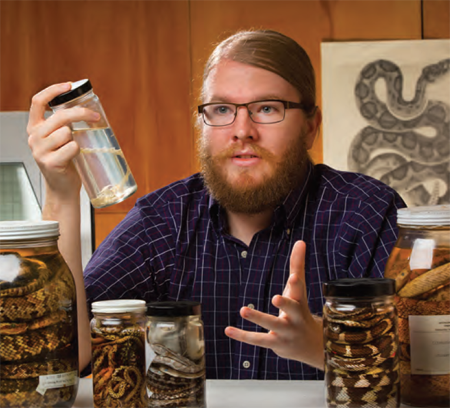 Dr. David Penning photo by Doug Dugas
University researchers are shedding light on snakes and their behavior, from venom-injecting vipers to a prehistoric constrictor called Titanoboa, an almost 50-foot-long giant too thick to squeeze through a modern doorway. In one case, research conducted by Dr. Brad Moon, an associate professor of biology; Dr. David Penning, a former UL Lafayette doctoral student; and Baxter Sawvel, a graduate student, took the fangs out of the widespread misconception that venomous snakes, such as rattlesnakes and cottonmouths, strike faster than nonvenomous snakes. Learn more about this project.
---
Sound Waves
Dolphins, beaked whales and endangered sperm whales in the Gulf of Mexico have a lot to say about their deepwater environment. Some University of Louisiana at Lafayette scientists were part of a multidisciplinary group that spent 10 days listening to them this summer.  Learn more about this project.
---
Second Chance: Plant's return to space yields clues about how they sense gravity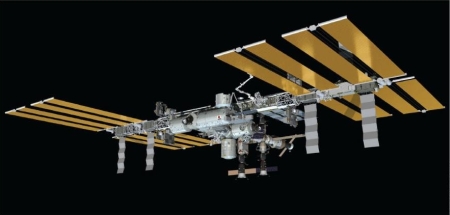 Dr. Karl Hasenstein hopes some of the answers to the scientific riddle of why plants grow up, while their roots grow down, rest in the palm of his hand. He's holding an amber-colored "plug" about the size and shape of a pencil eraser. Encapsulated inside the plug, which is composed primarily of resin, is a tiny root tip of Brassica rapa, or field mustard plant. The sliver of root, which resembles the stinger of a honey bee, is on of 80 such roots of a biology experiment that took place aboard the International Space Station earlier this year. Learn more about this project.
---
Growing Opportunity: Research team develops trademarked line of native seeds, plants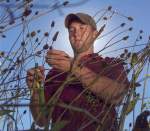 There is a rule of thumb among native plant growers: The first year, it sleeps. The second, it creeps. And the third year, it leaps. Reintroducing native varieties takes time, but the effort pays off handsomely. Once these long-lived plants are established, they're essentially maintenance free. They don't require fertilizer, because they're adapted to native soils. And they don't require pesticides, because they're adapted to native insects. They're almost impervious to drought and can even survive fire. Learn more about this project.