Duane Blumberg Spirit Award
This award is named in honor of Dr. Duane Blumberg. Dr. Blumberg was dean of the Ray P. Authement College of Sciences from 1992 through 2001. Prior to serving as dean he was a professor in the mathematics department.
This award is not given every semester, for it is given to a student who has had to overcome some obstacle in the path to a college degree.
Spring 2018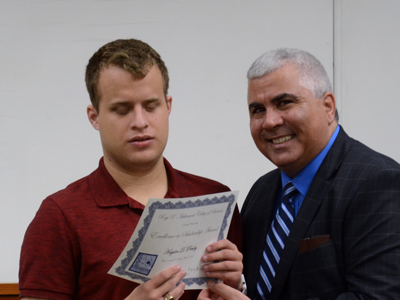 The Spring 2018 Dean Duane Blumberg Spirit Award winner is Hayden Presley. Hayden is finishing with a degree in Computer Science, concentration area of Scientific Computing and an official minor in Mathematics. He completed his studies with a GPA of 4.0.
Spring 2017
The Spring 2017 Dean Duane Blumberg Spirit Award winner is Bao Huynh. Normally, a faculty member will write the committee a letter nominating a student. In Bao's case, while reading the applications for the other awards, the committee decided that he should be the winner. Bao's family is a first-generation immigrant family. He had only started to teach himself English a few months before they moved to the U.S. three and a half years ago. His parents spoke no English. The first two years here, they lived and shared one room in his aunt's house. Having only one car for the family, Bao would get up early, drive his parents to work, come to school, take an extremely heavy course load, then pick them up late at night, and begin studying more. That may sound typical for some of you out there but then add to that the extra work required to study in a different language. In his application, Bao says that he lacked social networks, so he did not always know what he should do or where he should go but he never gave up. I can testify that every time he came in our office he had a smile on his face. He plans to go to medical school and wants to use his experiences and medical knowledge to help immigrant communities to live healthier. Bao is finishing in 3.5 years with a degree in Biology with a minor in Chemistry and a 3.9 GPA.
Fall 2016
The Fall 2016 Dean Duane Blumberg Spirit Award winner is Dane Lantier. Dane was born with a rare, genetic, incurable, bone disease called Morquio Syndrome. He suffers with severe skeletal dysplasia and has had seven major surgeries to be able to walk short distances. Dane constantly struggles with energy, fatigue and joint pain. He has to travel to obtain medical care and operations several times a year. Despite these conditions, he still managed to keep up with school and worked as an intern at McIlhenny Company. Dane lives independently. He was determined to learn how to drive and his house is made to his height. Dane is Vice President of St. Martin de Tours Foundation which awards scholarships to college students who have persevered through hardship while in college, so it is quite fitting that we honor him with this award. Quoting Dr. Hsu in her letter of nomination, she writes "I admire his positivity, spiritual and strength in life but most of all, he influences his peers with professional and quality work. His strength, effort and confidence are admirable". Dane is finishing with a degree in Informatics with a concentration in Systems Administration with a 3.54 GPA.
Spring 2015
The Spring 2015 Dean Duane Blumberg Spirit Award winner is Danielle Alex Dooley. The following quote, taken from Dr. Karen Smith's nomination letter, shows why we selected Alex for this award. "Alex has a tremendous spirit. She is a very positive and warm-hearted individual, and from her cheerful demeanor, it is hard to imagine the hardship she has endured and overcome as a young woman. During her sophomore year at UL Lafayette, both of her parents died within a five-month period. Alex was not the only child orphaned by this event, she also has a younger brother, who was in High School at the time of their parent's death. Alex did not want him being raised by anyone else and took the responsibility of becoming his legal guardian. She was told by her brother's high school principal, that she was not up to this challenge. His well-meaning advice was that she was too young, and that the responsibility would be too great. Alex persisted however, because she felt that taking care of her brother and maintaining their family home was very important. She had to struggle forward not just for herself, but also for him. I am in awe of her choices, and the grace with which she took on this monumental task." Alex received a degree in Biology with a 3.637 GPA. She is applying to medical schools and her brother is now a student at UL Lafayette.
Fall 2014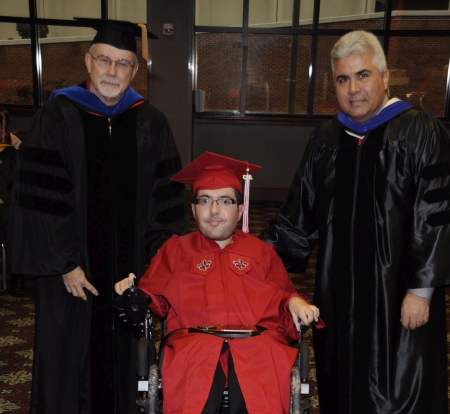 The Fall 2014 Dean Duane Blumberg Spirit Award goes to Justin Paul Garrett. The following is the text of the presentation made at the commencement exercises by Computer Science Instructor Nona Istre.
The student selected for the Blumberg Spirit Award has a condition called Spinal Muscular Atrophy, known in the medical field as SMA. SMA is a genetic disease affecting the part of the nervous system that controls voluntary muscle movement. Essentially, SMA is a disease that causes your muscles to waste away (atrophy) as you get older due to the inability to use them. The recipient of this award was born with SMA, but was not diagnosed until the age of 17 months. He was able to walk until the age of 5 years old, at which time he received his first wheelchair. At the age of 11, he had to have surgery to correct curvature of his spine and complications from that surgery left him with use of only his right arm. Currently he has virtually no use of his left arm and only limited use of his right arm. As he said, he can only write a few words at a time before tiring.
Given ALL that -- He has attended mainstream schools all his life and graduated from Comeaux High School before attending UL Lafayette.
His transition to college life was difficult the UL Lafayette campus is much larger than Comeaux High's. Having only 10-15 minutes between classes and needing to "snag" an elevator for his wheelchair were both challenging tasks. Actually, just getting doors opened and books out of a book bag were a task. He has assistance (medical or otherwise) most places that he goes. But, he persevered. He commented that the students, faculty and staff at UL Lafayette made him feel a part of the university, more so than when he was in high school. Even though he came to a much larger school, he felt more like family here and made great friends. Having such an accepting environment played a big part in completion of his degree. One of his favorite moments in college was when one of his professors was teaching something and said to the class, "Ask questions or I'm going to assume y'all know this stuff, because to me it's as easy as walking!" to which he replied aloud "Crap, I'll never be able to do it then!". The whole class burst out laughing.
This student has been my advisee since the first semester of his academic career. There were times when I knew he was not feeling well and it was a tough semester, but his spirit and determination to complete the degree never wavered. There was never a question of whether or not he was going to finish, it just might take a semester or two extra if things, courses or health, did''t work out that semester. I've told him already that it was an honor to nominate him for this award, but I am very happy to announce now – it is my honor to present Justin Paul Garrett with the Duane Blumberg Award for Spirit
Fall 2012
The Fall 2012 Dean Duane Blumberg Spirit Award goes to Brian Fischer. Brian has shown tremendous determination and tenacity to complete his undergraduate degree in spite of being affected by Asperger Syndome and, perhaps more pertinently, suffering from a severe, life-threatening, potentially crippling injury about a year and a half ago.
Brian is a Geology major who loves the outdoors and is an experienced hiker and camper. He had been an Eagle Scout who attended and taught at the Philmont Boy Scout Camp in the rugged mountains of New Mexico. In the summer of 2011 Brian was participating in Summer Field Camp, a rigorous 6 credit, 6 week-long course that is required of all Geology majors. Late in the afternoon of June 8th Brian was returning from the day's field work after climbing to the top of Sheep Mountain in the Big Horn Basin of Wyoming. It was the fourth and last day of a large project and he and two other students were within about a half mile of the vans. Descending through a steep ravine, Brian, the middle person in the group, placed his left hand on a large boulder to steady his descent down the rocky valley. Suddenly and without warning, the 5 foot long boulder slid towards Brian; he was able to push himself partly out of the way, but unfortunately the boulder landed on his right thigh. His right femur was crushed into at least 20 fragments and he was pinned under the rock. It took 5 students just to roll the rock off of Brian's leg. Without being too graphic, bones and blood were exposed, but Brian never panicked. His fellow students and faculty administered first aid and stabilized him. Emergency medical personnel from local groups arrived within about an hour and, along with a dozen or so fellow students, were able to carry Brian to the van area and a waiting ambulance in another hour. He was transferred to and stabilized at a local hospital, and then air lifted to a larger facility in Billings MT where he spent the next couple weeks before returning to Louisiana.
It would have been easy for Brian to quit after such a serious, debilitating accident, but Brian kept a positive attitude and refused to give up. He returned to school in August, first in a wheelchair, then sequentially on crutches, in a walker, with a cane, and finally on his own 2 feet, and now he is back to jogging. Throughout the recovery his spirit and attitude were never diminished. He laughed and joked about his situation with fellow students and faculty and had a positive outlook at all times. He was able to continue with a full schedule and to remain active in the Honors Program. Brian received a Bachelor's degree in Geology at the Fall commencement.
Duane Blumberg Spirit Award Archive
| Term | Awardee |
| --- | --- |
| Spring 2015 | Danielle Alex Dooley |
| Fall 2014 | Justin P. Garrett |
| Fall 2012 | Brian C. Fischer |
| Fall 2011 | Michael S. Steuart |
| Fall 2010 | Jonathan A. Groomer |
| Spring 2009 | James P. Darcey |
| Fall 2008 | Michael W. Bernard |
| Spring 2008 | Carolina K. Wales |
| Fall 2007 | Randy L. Hebard |