Alumni Spotlight: Jamie Hebert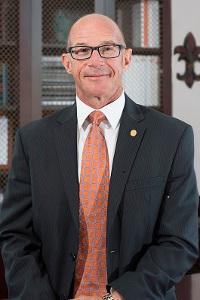 Dr. Jamie L. Hebert (Bachelor of Science, Statistics, 1986; Master of Science, Statistics, 1988; Doctor of Philosophy, Statistics, 1990). President of Georgia Southern University in Statesboro, Georgia (effective July 2016).
Dr. Hebert, a native of Abbeville, earned three degrees at UL Lafayette before embarking on a successful career in academia.  Dr. Hebert joined the faculty of Appalachian State University (Boone, North Carolina) in 1990 as an Assistant Professor of Mathematical Science.  In 1995, Dr. Hebert moved to Sam Houston State University (Huntsville, Texas) where he climbed the academic ranks to become a Full Professor of Statistics in 1999.  He went on to Chair the Statistics Department, to serve as Dean of the College of Arts and Sciences, and then was promoted in 2011 to Provost and Vice President of Academic Affairs.  In July of 2016, Dr. Hebert will be moving to Georgia Southern University (Statesboro, Georgia) to become President of the University.  "Georgia Southern is a great university, and I am honored to have the opportunity to serve this institution, its faculty, staff and students; and, the Statesboro community. I look forward to working with the campus and Statesboro community to take Georgia Southern to even greater heights," said Hebert.
About UL Lafayette, Dr. Hebert said, "The University of Louisiana Lafayette not only provided a wonderful educational foundation for me, the institution has been transformative for my entire family. It was a gateway for my father decades ago and has since opened doors for me, my siblings, and now our children … The personal approach to education provided by the Mathematics and Statistics faculty, the extraordinary mentors like Tom Boullion and Pat Rickles, and the culture of the place, wrapping a wholesome academic institution in the richness of the Cajun culture, provided the precise experience that I needed to initiate my career. I owe everything to this place."
Throughout his academic career, Dr. Hebert has been active in University-related, student-related, professional and civic organizations including: the Council of Academic Deans, SACS Compliance Committee (2009 reaffirmation), Standing Faculty Tenure Committee, Texas Association of Chief Academic Officers, Journal of Developmental Education, SHSU Rotoract Club, Tau Kappa Epsilon Fraternity (advisor), Rotary Club of Huntsville, and Huntsville/Walker County Economic Development Committee.
Dr. Hebert has two daughters. Emily is a graduate student and Sarah is an undergraduate student.