Faculty Spotlight: Michalis Charilaou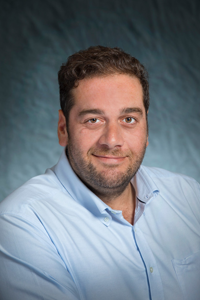 Michalis Charilaou, PhD, joined the Department of Physics at UL Lafayette as an Assistant Professor in August 2018. He received a diploma in Physics from the Free University of Berlin in 2008 and an interdisciplinary PhD from the Swiss Federal Institute of Technology in Zurich in 2012. Originally from Cyprus, he did his undergraduate studies in Berlin.
Dr. Charilaou's research aims at understanding the physics of magnetism in nanostructured materials. By combining computational and experimental methods, he tries to elucidate the link between material structure and magnetic properties. This research, while focusing at fundamental aspects of condensed matter, has implications on many technologies, ranging from biomedical imaging and therapy, to high-performance energy conversion, and to Earth and space exploration, where magnetic nanostructured and nanoparticles, both synthetic and naturally occurring, play a vital role.
Contact Dr. Charilaou or learn more through these links:
michalis.charilaou@louisiana.edu
Michalis Charilaou's site